Upcoming Events

(click panels below to expand)
(Calendar version below)
---
Industry Day 2023 was February 15-16, 2023, at the River Spirit Resort & Casino!!
The event WebPage is still live and includes information from the event, including Registration, Agenda, Presentations, Web and Mobile app links, Logistics, Sponsors and more. If you need your PDH form, login to one of the apps and it is in the Documents section, or request via email
Questions? email Keith Beatty
---
Ft Worth Post is hosting it's 2023 Small Business Government-Industry Engagement Day on March 30, 2023. Register HERE
---
Become a Tulsa Post Annual Sponsor - Sign up for your firm's Sponsorship. How to Signup. Link to our Sponsors
---
Please note: Up to 1 PDH will be made available and certificate printed at all technical SAME meetings. Presenters will be eligible to receive 3 PDHs. PDHs for some past meetings can be found on the Archives page.
---
Thanks to our Tulsa Post Sponsors

| | |
| --- | --- |
| | |
| Platinum | Gold |
| | |
Note: You can subscribe to the calendar using the + sign above if you use Google Calendars. You can also copy each individual event to your calendar by clicking on the "copy to my calendar" link within each event.
Tulsa Post of the Society of American Military Engineers

The Tulsa Post of the Society of American Military Engineers maintains more than 50 sustaining member firms and more than 350 individual members. Tulsa has also been home to the Tulsa District Corps of Engineers for more than 60 years! All of our meetings are open and anyone interested is encouraged to attended our meetings.
Visit our National Site: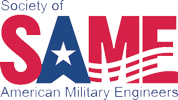 The mission of the Society of American Military Engineers is to promote and facilitate engineering support for national security by developing and enhancing relationships and competencies among uniformed services, public and private sector engineers.