Upcoming Events

(click panels below to expand)
(Calendar version below)
January 16: Monthly Meeting - STEM
Date: January 16, 2024 11:30AM
Location: Virtual
Topic: Focus will be on education, STEM, opportunities for partnership, and to Introduce New Board
POC: Bryce Langley
February 7-8: Industry Day
Date: February 7-8, 2024
Location: Renaissance Hotel
For more information and Registration, see below and our Industry Day webpage
POC: Keith Beatty
2023 J.D. Metcalfe College Scholarship Applications Available:
The Tulsa Post of SAME is pleased to announce the applications for a minimum of three $2,000 scholarships to Junior or Senior students in Engineering, Biological Sciences and Physical Sciences programs. Applications are due December 31, 2023. More detail are HERE.
---
REGISTRATION IS OPEN!: Tulsa Post's Industry Day will be February 7-8, 2024, at the Renaissance Tulsa Hotel and Convention Center. Register on our EVENT WEBPAGE
Call for Abstracts:
Tulsa SAME is looking for original content, strategies, and case studies to help the engineering community—including service members, civilians, and the A/E/C industry supporting government agencies—advance their professional development and make an impact within their organization.
SAME TULSA is planning an in-person event on February 7-8, 2023, at the Renaissance Tulsa Hotel & Convention Center in Tulsa, Oklahoma. Possible abstract topics:
• Architecture, Engineering & Construction • Business Development & Marketing

• MILCON Projects

• Small Business

• Environmental

• Leadership

• Community Involvement

• Projects with multiple government clients
Our attendees want to be engaged, so we invite you to present a session exceeding these expectations! The deadline to submit an abstract is Friday, December 8th, 2023.
We will not have as many presentations this year to allow for more attendees for each session.
Please follow the following format for submission.
Please fill out the attached worksheet.
Please use the attached template for your abstract.
Please include a high-resolution photo of each presenter.
Please submit these and any questions to Keith Beatty
---
Check out the SAME National calendar of events - Tulsa Post events are now included.  Those traveling can attend ANY and ALL Posts' programs included in the national calendar.
---
The Tulsa Post is proud to sponsor Project Peacock, a community-based FIRST Tech Challenge (FTC) robotics team based in Tulsa.
---
Become a Tulsa Post Annual Sponsor - Sign up for your firm's Sponsorship. How to Signup.
---
Please note: Up to 1 PDH will be made available and certificate printed at all technical SAME meetings. Presenters will be eligible to receive 3 PDHs. PDHs for some past meetings can be found on the Archives page.
---
Thanks to our Tulsa Post Sponsors

| | |
| --- | --- |
| | |
| Platinum | Gold |
| | |
Note: You can subscribe to the calendar using the + sign above if you use Google Calendars. You can also copy each individual event to your calendar by clicking on the "copy to my calendar" link within each event.
Tulsa Post of the Society of American Military Engineers

The Tulsa Post of the Society of American Military Engineers maintains more than 50 sustaining member firms and more than 350 individual members. Tulsa has also been home to the Tulsa District Corps of Engineers for more than 60 years! All of our meetings are open and anyone interested is encouraged to attended our meetings.
Visit our National Site: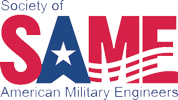 The mission of the Society of American Military Engineers is to promote and facilitate engineering support for national security by developing and enhancing relationships and competencies among uniformed services, public and private sector engineers.