Upcoming Events

(click panels below to expand)
(Calendar version below)
---
Industry Day 2023 is scheduled for February 15-16, 2023, at the River Spirit Resort & Casino!!
The event WebPage is now live and includes information for the event, including Registration, Agenda, Tutorials, Web and Mobile app links, Logistics, Sponsors and more.
Questions? email Keith Beatty
---
The 2023 SAME STEM Engineering & Construction Camp season portal is officially open! Application Deadline is March 15, 2023. Once applications have closed, Posts will be notified of all the applicants so they can make sponsorship selections.
Each summer, SAME Camps provide aspiring engineering students from across the country an opportunity for hands-on learning in collaboration with military engineers and SAME members. The week-long camps, held in conjunction with the U.S. Army, the U.S. Air Force, U.S. Navy and the U.S. Marine Corps are designed for high school students who excel in math, science and technology courses and are interested in pursuing engineering, architecture, or a related field in college.
---
Become a Tulsa Post Annual Sponsor - Sign up for your firm's Sponsorship. How to Signup. Link to our Sponsors
---
Please note: Up to 1 PDH will be made available and certificate printed at all technical SAME meetings. Presenters will be eligible to receive 3 PDHs. PDHs for some past meetings can be found on the Archives page.
---
Thanks to our Tulsa Post Sponsors

| | |
| --- | --- |
| | |
| Platinum | Gold |
| | |
Note: You can subscribe to the calendar using the + sign above if you use Google Calendars. You can also copy each individual event to your calendar by clicking on the "copy to my calendar" link within each event.
Tulsa Post of the Society of American Military Engineers

The Tulsa Post of the Society of American Military Engineers maintains more than 50 sustaining member firms and more than 350 individual members. Tulsa has also been home to the Tulsa District Corps of Engineers for more than 60 years! All of our meetings are open and anyone interested is encouraged to attended our meetings.
Visit our National Site: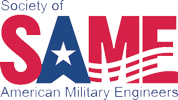 The mission of the Society of American Military Engineers is to promote and facilitate engineering support for national security by developing and enhancing relationships and competencies among uniformed services, public and private sector engineers.